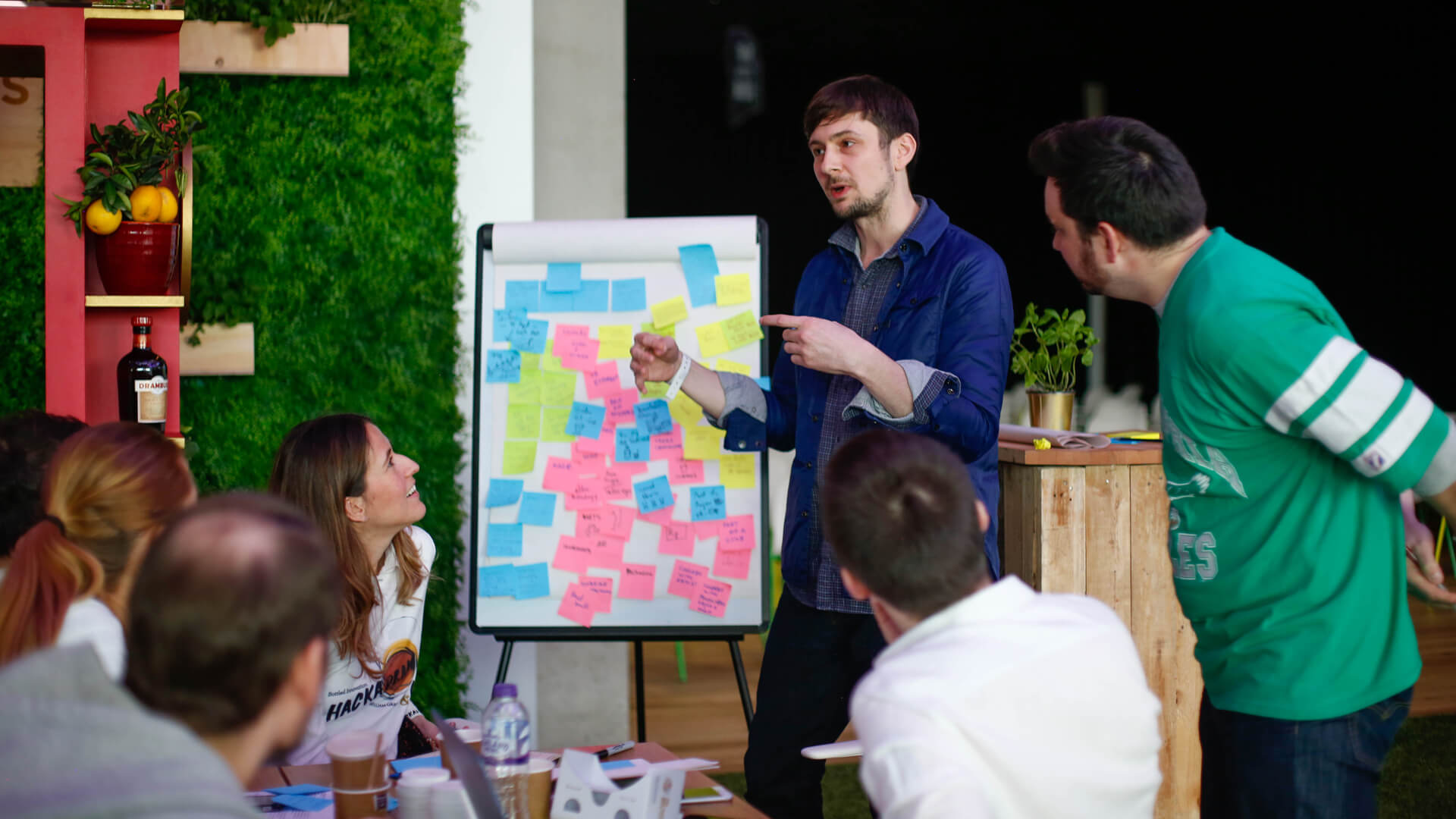 Design Thinking takes a product, service or process and looks at it through a human-centric lens.
From huge corporations right down to entrepreneurs and freelancers, selling products and services in 2020 has never been more challenging.
There's a constant pressure to innovate, and the ability to conceive and execute successful product designs is paramount to gaining the upper hand in today's ultra-competitive marketplace.
Many companies like Apple were borne from a desire to create innovative products. Yet the most significant challenge these brands face as they become more successful is how to refine those products and services further to maintain their market position.
Innovation can put immense pressure on even the smallest of players.
Design Thinking can help to overcome those challenges.
What is Design Thinking?
Far from being an industry buzz word, Design Thinking is simply a structured way of solving problems.
Design Thinking takes a product, service or process and looks at it through a human-centric lens. It seeks to uncover the issues a real user could have with a product, generate ideas to solve those problems, and then test them until a solution is achieved.
Surely Most Companies do This Already?
Design Thinking might have been around since the early 1960s, but it's still an uncommon concept for many businesses.
Very few companies truly understand how to look at product refinement through the lens of a user. Design thinking, when properly executed, can yield considerable improvements to revenue and crucially, customer satisfaction:
"A recent McKinsey study showed that over a five year period, companies who were most skilled at implementing design principles achieved 32% more revenue and 52% more returns to shareholders than their less-skilled counterparts."
The Four Phases: Design Thinking in Action
Discovery
The discovery phase is all about empathy and the uncovering of problems. Companies look at products from a user's perspective and seek to collect insightful data and widen their knowledge of how customers tick.
Definition
The definition phase is all about diving deep into the data and selecting one or more problems with the product.
This phase of Design Thinking is vital: It's not about the designer's idea of how the product should be evolved; it's about honing it from a user's point of view.
Once a set of problems are established, it's time to pick the most important one to solve. Ideally, that should be the problem that's most important from a customer perspective and also the one that aligns closest to the core beliefs of your business.
Development
The development phase involves dreaming up solutions to the problem that has been uncovered and generating ideas to solve it. Repeated rapid prototyping and refinement is undertaken after a diverse team of thinkers has offered up ideas to solve the problem.
Delivery
After final testing, a plan is devised to roll out the updated product for shipment. Many companies release products internally before launching to the general public. Any issues that arise after internal delivery would see a product returning to stage one.
Utilising Design Thinking in the Real World
Design Thinking has changed the fortunes of every kind of company and organisation imaginable. From huge multinationals, right down to charities and public services, this innovative way of exploring and adapting to challenges is applicable within any niche.

Here are a few ways in which a Design Thinking mindset could improve the way your business operates:
Creating a Roadmap for the Future
Businesses in 2020 need to minimise disruptions. It's a fast-paced, hyper-competitive world out there, and company leaders need to have a solid product launch (and refinement) roadmap in place if they want to succeed.

Design Thinking's step-by-step nature makes it perfect for planning for the future. It keeps product design and evolution clear, simple and easy to visualise.
Perfect for today's fast-changing consumer landscape.
Opening Opportunities
Because Design Thinking looks at problems from a human-centric (user) point of view, it's often a process that reveals new insights and opportunities within marketplaces that weren't at first apparent. It's an effective way to gain a more in-depth knowledge of your niche.
Staying Ahead of the Competition
Design Thinking's structured approach and focus on finding solutions to user problems means that it can help a company stay ahead of the competition.
In the current market, it isn't good enough to simply "release a great product", there has to be a purpose in mind. Your product needs to solve a particular pain point in a way that your competitors don't.
Design Thinking is the perfect way to uncover what your market needs.
Generate Ideas & Prototype Quickly
Design Thinking allows ideas to flow, and new techniques and iterations to be tested rapidly. That makes it easier to keep product development lean and agile, making your business that bit better at pivoting to stay relevant.
Improved Team Collaboration & innovation
Design Thinking focuses on brainstorming sessions and out-of-the-box thinking. It's a perfect solution to ineffective meetings and disjointed communication.
Team-based collaboration using Design Thinking processes keeps everyone on the same page and heavily invested in the product being developed or refined.
In addition, Design Thinking is a very powerful tool when it comes to keeping processes both time-efficient and on-budget.
Improved Customer Experience
Customer experience is at the heart of what makes a brand successful. Every interaction from the products themselves, right down to website user experience plays a vital role in shaping perceptions about your brand.
Design Thinking can be applied to any process that involves a human-centric interaction. It's not just about the core products themselves.
Better Products & Services
Design Thinking allows for fewer nasty surprises, smoother product launches and less recalls. In addition, your products will benefit from thorough testing and the user-focused development that Design Thinking champions.

Ultimately, better products and services create happier customers, improved credibility and in turn, higher profits.
Why Not Try the Process Yourself?
Companies large and small have been benefitting from the improvements that a Design Thinking approach has brought to their products and services. Maybe your business could reap similar rewards!